ABOUT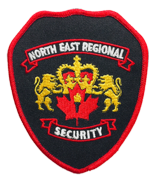 North East Regional Security Services (NERSS) was founded in 1999 to serve the ever growing demand for the protection of businesses , personal property owners and the industrial sector in the city of Sault Ste. Marie and surrounding area.
In 1999, NERSS started with a team of 8 guards and has since grown to employ over 75 security professionals.
NERSS is recognized throughout the community for its commitment to customer satisfaction and delivery of service. Our capability to adapt to the ever changing needs of clients as well as adapting to change at a moments notice puts NERSS at the leading edge of customer satisfaction. We will assess, design, deliver and optimize your environment. We offer an integrated security solutions approach.
It's our commitment. It's what defines our company and the no excuses service we provide to our clients. With our depth knowledge, our focus on innovation and our never ending desire for self-improvement, NERSS is your best choice when looking for a dedicated security partner that's committed to exceeding your highest expectations.
---
MISSION STATEMENT
Our team is driven by the desire to keep people safe and secure and to make a difference in the community we serve.
OUR APPROACH TO BUSINESS
North East Regional Security Services believes everything starts with discipline and there is no miracle moment. We bring our plans to successful conclusions using a step-by-step approach so that everyone gains confidence from actions not words.
NERSS understands that everything starts with having the right people who have a blend of humility and professionalism. Our team members are focused on a clear direction – a simple understanding that providing Peace of Mind and Customer Service to our customers is a winning formula.
OUR GUARD SELECTION
All NERSS guards are carefully screened according to talents, qualifications, experience, disposition and background. Thanks to our selective hiring process, only dedicated, career-minded professionals make it onto our team and the compensation our employees receive is a reflection of the quality work they do each day.
Our security guards are carefully screened, selected and trained individuals who understand the unique environments in which they work.
Every day our team members protect locations across Northern Ontario – government, mining, commercial and residential properties, healthcare facilities, manufacturing, educational and more.
Employing over 75 Professional Security Personnel means that if it's on the map we have the people to keep you Safe, Secure and Satisfied anywhere in Ontario. Our personnel deliver superior levels of service.
Let us unlock the potential that exists in securing your world.
---
NERSS MANAGEMENT TEAM
North East Regional Security Services is lead by a team of individuals who provide the vision and guidance to make NERSS a leader in security.
Owner / Partner – TERRY TRAVESON
Terry is partner and president of North East Regional Security Services. Terry has been the operational manager for over 22 years. Terry has grown this company into a successful business. Terry has experience as a Customs Officer with Canada Customs and Excise. Terry has earned an Honours Degree in Physical and Health Education from Laurentian University.
Owner / Partner – RON DISANO
Ron is partner and vice president of North East Regional Security Services. Ron is a retired police sergeant. Ron was employed by York Regional Police and Midland Police Services. Ron has performed many functions within policing including patrol, criminal investigations, community orientated response, public order, search and rescue units and platoon supervisor. Ron attended Lake Superior State University and obtained a B.Sc. Degree in Criminal Justice and an M.B.A. Also, Ron has achieved a Bachelor of Education Degree from the University of Windsor.
Owner / Partner – SANDY DISTASI
Sandy is partner and vice president of North East Regional Security Services. Sandy is a correctional officer with over 22 years experience. Prior to corrections, Sandy was employed by Brinks Canada. Sandy has earned an Associate Degree in Criminal Justice from Lake Superior State University.